Microsoft's Innovation and Apple's Lack of it
Microsoft's continuous and aggressive innovations in Software, Services and Devices, caught Apple fans off-guard.
Microsoft and Apple had their events last week, a day apart. Microsoft unveiled new version of Windows, dubbed Windows Creators Update. Along with the software launch they also announced refreshed Surface Book and an All in One device with crazy accessory.
Whereas, Apple unveiled new MacBook Pros with a Touch Bar and introduced a new Applet TV App. Mac users were disappointed to not hear about new iMacs. Most were furious about MacBook Pros' increased prices. Now an entry level MacBook Pro will cost S$300 more than the earlier model.
Further, their most innovative feature, Touch Bar, received a lukewarm response. Many industry experts as well as Professionals felt the MacBook Pros were underpowered as 16GB RAM ceiling won't cut for them. Apple defended their design strategy, which required limiting RAM, for maintaining battery performance.
MacBook Pros are indeed beautiful devices, they are slimmer, lighter as Apple always made them. But now Mac users are demanding more. Many modern PCs are not only better looking but also packed with plenty of features, including 4K+ Touch screens, multiple USB ports, headphone and LAN ports etc…
But the tipping point was when Microsoft Announced their Surface Studio All-in-one desktop with Surface Dial accessories. The device is absolutely drool-worthy. "Apple style" ad was impressive. I am sure the device is not meant for day-to-day computing, but also at its price the device seem underpowered for real creative work. But this is the start and Microsoft, I am sure, will only go forward from here.
As Panos Panay mentioned, Surface Dial is just a beginning. I am surely planning to have one for my Surface Pro 3.
I am using Surface Pro 4's type cover with my 3 year old Surface Pro 3. I can't stress enough how good the new keyboard is as compared to the old one, and mind it, original Keyboard was not bad. One can only imagine the direction for Microsoft engineers.
While industry is recovering from Microsoft assault of devices, Microsoft announced Microsoft Teams, their Slack competitor. Only that Microsoft Teams is a lot more, as it is sold as part of Office 365 toolkit, as Satya Nadela puts it, it integrates into OneDrive, Skype and SharePoint amazingly well. I have started using the Microsoft Teams Preview at my Workplace and sincerely believe that, this will be the answer to otherwise haphazard world of Office 365, with Outlooks and Skypes and Yammers and SharePoints.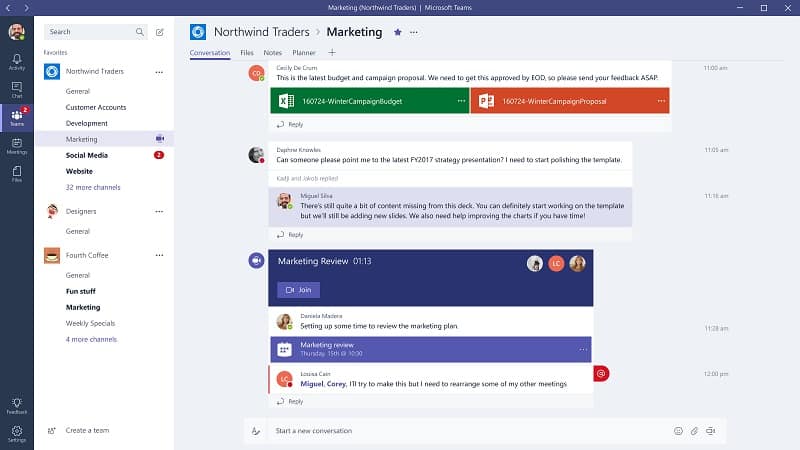 After watching lively Microsoft event and Apple's colorless presentation, its more evident than ever where they are going. This absolutely doesn't mean Apple can't turn around, they are, by the way, the richest company on the planet and have some the best engineers and designers working for them. But only if they become less arrogant and pay attention to changing user needs.