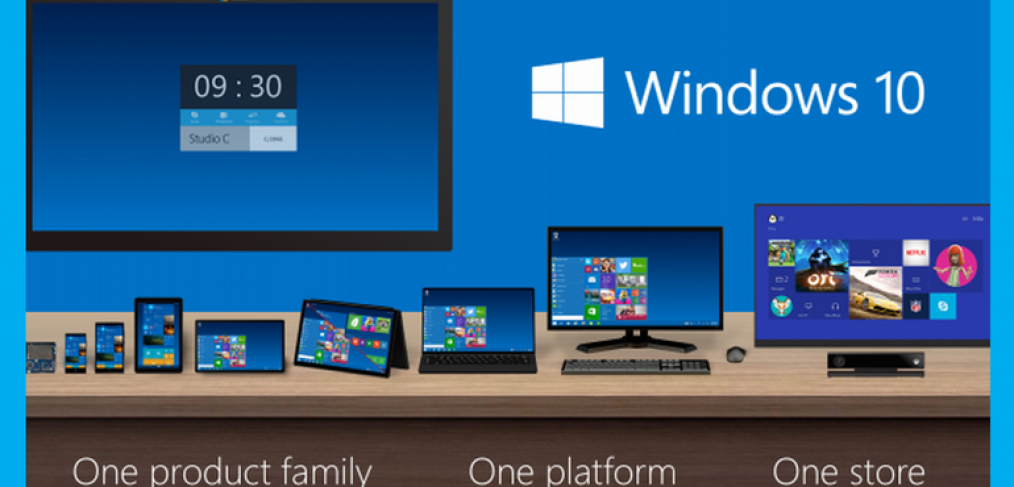 What's New in Windows 10?
Microsoft is launching its new operating system dubbed Windows 10 on 29th July, 2015. Let's explore its features and understand why will it stands out against Windows 8.1 or most popular Windows 7.
Start Button Strikes Back
Although not a huge fan of Start button, which had its own share of criticism, I can very well understand its importance for Businesses. Windows 8 introduced a big shift, for some it was more of a shock, by removing the all-popular Start button. They were betting on modern UI, similar to Windows Phone, which never got due appreciation. While I won't call Windows 8 a failure, it was surely not the most accepted operating system release for Microsoft.
Hi, I am Cortana!
Introduced with Windows Phone, Cortana is Personal Digital Assistant. A combination of Apple's Siri and Google Now, Cortana offers a lot more. Besides searching web using natural language query and setting reminders, Cortana is designed to help learn operating system basics as well as find files based on content. Meaning if you ask for "PowerPoint slides about the Business Presentation," it'll search your computer and OneDrive accounts for relevant files.
Microsoft is really pushing its natural-language and transcription abilities — onstage, Cortana was asked to "show photos from December," which it happily (and quickly) did, and also transcribed and sent an email entirely through voice commands.
Microsoft Edge
Microsoft Edge (aka Project Spartan) is a new browser for Windows 10 replacing Internet Explorer. Sure there's a very clean, almost Chrome-like design, and a brand-new rendering engine, but the focus here is on social sharing. You can highlight and annotate websites before sharing them with friends, kind of like having Skitch built right into your browser. There's also Cortana integration and a reading view that, much like Pocket, lets you read pages offline.
Say "Hello!" to your PC
Microsoft has confirmed Windows 10 will support the Fast Identity Online (FIDO) standard. This means users will be able to sign into commonly used apps like Outlook using a variety of biometric tools from fingerprint readers to retina scanners.
"The current Technical Preview build enables a number of enterprise scenarios and it showcases our integration with Windows 10 sign-in, Azure Active Directory, and access to major SaaS services like Office 365 Exchange Online, Salesforce, Citrix, Box, Concur, just to name a few," noted Dustin Ingalls, group program manager at Microsoft on the Windows blog.
"With Windows 10, for the very first time Windows devices and Microsoft-owned and partner SaaS services supported by Azure Active Directory authentication can be accessed end-to-end using an enterprise-grade two-factor authentication solution – all without a password."
Continuum
Microsoft was so keen to push the "touch-first" mantra with Window 8, the experience on traditional machines where keyboards and mice were the primary form of input suffered. This was addressed to some extent with the 8.1 update and the problem could now be solved with Windows 10.
Continuum will allow the Windows 10 interface to adapt based on the hardware it is running in. Anyone upgrading a 7in device with Windows 8.1 will retain full desktop functionality with Windows 10. However, any sub-8in devices preloaded with Windows 10 will not have the desktop functionality.
Xbox Game Streaming:
Sony has let you stream PlayStation 4 games to a Vita from launch. Microsoft's response? To let anyone stream any Xbox One game to any Windows 10 PC or tablet. Sure, you have to be on the same network, but it's still pretty massive news. Elsewhere, there's a new Xbox app for PC and tablet that lets you access your activity feed, messages and friends list. It'll even display information on games in third-party clients like Steam.
And Oh… Hololens
We were promised a couple of surprises on Windows 10 Demo, and it's fair to say that Microsoft came through with a huge surprise: Windows Hololens. It's an AR platform, letting you see 3D "projections" using a pair of AR goggles. You're probably thinking this is some vague pipe dream, but it's not. Microsoft also showed off HoloLens — a wearable, wire-free computer that will enable Windows Holographic — which the company says will be available at some point "in the Windows 10 time frame."
One more thing… It's Free!! Not Really.
Terry Myerson announced that the Windows 10 will be free for the first year upgraders. That's the great news, only if, you have Windows 7 SP1, Windows 8 or Windows 8.1. This doesn't apply to enterprise users, who needs to purchase an upgrade license through their Volume License partner.
Microsoft also announced that it will allow all Windows Insiders (Windows Testers) to upgrade their Preview version to full commercial version, when they launch Windows 10 on 29th July. However, it is not clear whether Windows Insiders running Windows XP or other not supported platform will be eligible.
There are many more features, such as Multiple Desktops, Unified Applications, Improved multi-tasking, improved Command Prompt with Copy / Paste feature, Flexible Security updates, Built-in Mobile Device Management, Better Settings and more.
Windows 10 shows lot of promise, which is a good news for Microsoft. However, consumers and businesses adopt it remains to be seen.