Build 2017 – Windows 10 Fall Creators Update
Next version of Windows has most awkward name in tech world but packs some useful features.
Since Windows 10 was introduced in June 2015, Microsoft has been progressively updating features in the operating system. Recently, the company announced that there will be two major releases to Windows 10 every year. After releasing "not so" impressive creators updated in April, they announced the features for next release during Build 2017.
Expected to arrive around Fall 2017, Windows 10 Fall Creators Update introduces some cool features. Listed below are some of the noteworthy ones.
Windows Story Remix
A new app called Windows Story Remix will be rolling out with next Windows 10 release. Story Remix uses Microsoft's machine learning to automatically create highlight reels from your pictures and videos, intelligently adding in transitions, music, and more.
But the true magic lies in its editing abilities, you can change the music type and tempo or even the Star of the film. The app will reorganize the entire film to match the tweaks.
In case you are a Windows Insider, check out build 16193. It includes some of the Windows 10 Fall Creators Update features, including, Story Remix.
Fluent Design System
Microsoft also unveiled its new design language for Windows 10, called the Fluent Design System. This new design language is an "evolution" of Metro Design. The new design will be part of Windows 10 Fall Creators Update. It is expected to improve user experience interacting with the operating system. The Fluent Design APIs will be made available to developers. This will help them build apps with same fluid design.
Most of the changes include subtle additions like blur effects, remember Windows Vista. Fluent Design System is designed to will appear across apps and services on Windows, iOS, and Android.
OneDrive Files on Demand
One of the most desired features of OneDrive is finally landing on Windows 10. OneDrive will put a Placeholder on the PC or phones, and the actual file can be pulled On-Demand. This will definitely save disk space by only downloading files that are needed to work offline. Microsoft has also streamlined file sharing experience in Windows Fall Creators Update. Check below video to learn more.
Timeline View
Timeline View, in next version of Windows, allows users to see historical data. Users can see all the documents they were working on, in chronological order.  It will essentially takes user back in time to review changes to documents made in the past.
Cloud Powered Clipboard
It was always a pain in moving content between devices. Apple introduced Continuity last year with its new Mac OS and iOS. However, the feature works only when both devices are Apple devices and on the same network.
Microsoft has opened up this feature on all major devices / platforms. Users can copy content on their Windows PC and paste it on their Android or iOS phones, with the help of Swiftkey Keyboard. SwiftKey Keyboard is available on all platforms.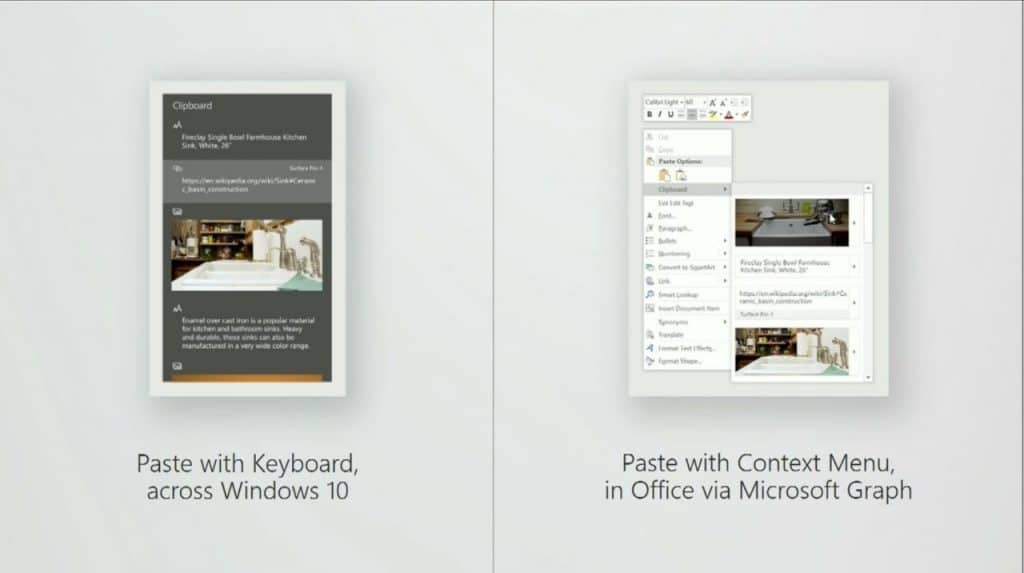 iTunes and Spotify in Windows Store
Microsoft also announced number of apps comping to Windows Store. The big ones are iTunes and Spotify.
Check out below video from Engadget with compilation of best Windows 10 Fall Creators Update features.