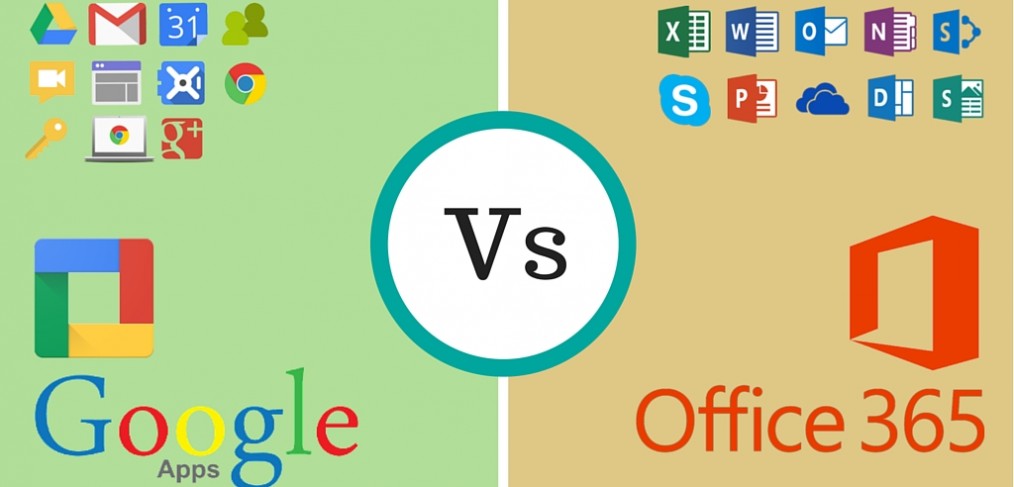 Google Apps vs Office 365

Google and Microsoft, both offer awesome cloud powered solutions for Home and Business users. Both have their unique advantages, but while comparing common services, Office 365 comes out as clear winner against Google Apps, for both home and business users. Below is a quick comparison of services;
Price Plans
Office 365 offers flexible plans for Home, Business & Enterprise users. Personal and Home plans start at US$6.99/mth and US$9.99/mth respectively and for Business starting from $5/mth to $22/mth.
While it seem bit expensive as compared to entry level Google Apps plan, which start at US$5, it has to be noted that Office 365 offers 1TB storage, Full Desktop version of its Office application and 60 minutes of Skype calls free. Under Home plan, Office 365 also allows installation on up to 5 devices.
Business plans for Office 365 start at $5/mth, same as entry level plan of Google Apps, however, Office 365 offers 1TB of storage against Google Apps' 30GB.
Winner: Google Apps
This round goes to Google for its simplified plans. Microsoft has made it unnecessarily complicated for mere mortals like us.
Available Apps
Office 365 offer online as well as desktop version of it core apps such as Excel, Word, PowerPoint, Outlook, OneNote, Publisher and Access. It sweetens the deal with number of collaboration tools such as Delve, Sway, Power BI, Skype, OneDrive, Office Groups, Yammer and SharePoint.
Google Apps offer core applications comparable to Office 365 online apps, but lack features Office apps provide, typically the desktop apps.
Winner: Office 365
Google Apps experience is nowhere near Productivity apps in Office 365. Pl don't get me wrong, the suite of apps are just fine for basic, no frills users but once you use Office 365 apps, it is difficult to go back.
Ease of Use
Office 365 is feature rich and provide amazing collaboration features. Office 365 offers rich management and security features. Most medium and large companies may want to make use of these features. General feedback from home and small business users is some what opposite, they find Office 365's management tools less intuitive and complex.
Google apps, makes managing environment simpler using on screen prompts. However lacks features such as running a hybrid environment, compliance tools, rights management etc…
Winner: None
Considering the article is target to Enterprise as well as Small businesses and Home users. There is no clear winner. I am sure both solutions will see improvements in this area in coming months. Office 365 for eg: will be implementing new user interface by end of this year.
Security and Management features
Office 365 claim that 4 out of 5 Fortune 500 companies choose Office 365 over Google Apps. This should reaffirm that it offers far better and secure environment for businesses. Host of compliance features will surely lure midsize and large businesses.
Google Apps management features are more focused on simple home or SMB users.
Winner: Office 365
Office 365 Security, Rights Management and compliance features offer far more control than Google Apps.
Storage and Sync Tools
Office 365 OneDrive offers 1TB of data store at the entry level plan. It can be upped to unlimited storage at fraction of a cost and the best part is this doesn't include 50GB storage that come with Emails. OneDrive Sync tool allows syncing most file formats including Documents, Music and Videos. Single file size limit is raised to 10GB at the time of this article. OneDrive App is being rewritten with excellent integration across all platforms. The experience of OneDrive on all platforms from PCs to Mac and from iOS, Windows Phone and Android is unmatched.
Google Apps start with 30GB free storage and with additional $5 go up to 1TB (unlimited for more than 5 users). Google Drive has good integration with Android devices and apps but, lack features on other platforms. There is also limitation on content type and size.
Winner: Office 365
Its no brainer, with entry level storage starting at 1TB, 30 times more than Google Apps at the same price plan, Office 365 takes this round convincingly.
Voice, Video Calls and online Meeting / Presentation
Office 365's Skype for Business is based on best of Skype, a popular IM with Voice and Video capabilities, and Lync, a collaboration tool developed with a vision to connect employees across geographical barriers. It offers excellent multi-person conference with Voice and Video as well as allows presentations, screen share and more. Some Office 365 plans include 60 minutes of Skype to phone calls.
Google Hangout has some promise but limitations on app compatibility as well as lack of Presence, Privacy features that Skype for Business offer, pulls it down. The feature list is same for paid or free versions.
Winner: Office 365
Skype for Business for its popularity and feature experiences wins this round.
Emails
Office 365 offer business class email with 50 GB of storage on the entry level plans, which can be upgraded to unlimited storage with archival option at just $2. Outlook Web App includes features such as Clutter, Office Groups and allows extensions. Runs on Exchange Server, it has strong retention policies, spam filter as well as compliance support, must for businesses. Besides this Outlook Web App offers better Search, Deep integration with Skype and OneDrive, lot of customization possibilities.
Google Apps' Gmail is a strong contender in Home and SMB space, however, lacks heavily when it comes to features including security, compliance, platform availability, integration with other Google Apps etc…
Winner: Office 365
For its features and compatibility with other platforms, Outlook for Office 365 wins this round.
Full Desktop Apps
Office 365 plans offer optional upgrade to Desktop Office apps. Arguably, there are no other apps in market to have features anywhere near the likes of Excel, Word, PowerPoint etc…
Google Apps offer limited ability to work offline and apps while simple to use, are not for users that want more.
Winner: Office 365
Full featured desktop apps or online version, Office 365 apps offer a lot better experience that its counterpart.
Final Verdict
Office 365 offer value for every cent spend. Google although offered the cloud solutions way before Microsoft did, it left behind due to lack of innovation and lack of focus in enterprise arena. I recommend Office 365 not only Businesses, but also for Home users as they receive a lot more with Office 365 as compared to Google Apps plan for the same value.
For e.g. at $10 Office 365 Home Plan offers Full Desktop version of Office apps, to be installed for up to 5 devices, Separate OneDrive Storage space of 1TB for each member (up to 5), Skype for Business 60 minutes credit for 5 users. Access Office 365 on additional tablets or phones. Cross platform integration, from PCs to Macs and from iOS, Android to Windows Phone.
Winner: Office 365
Do you have a different opinion? Please share your comments.