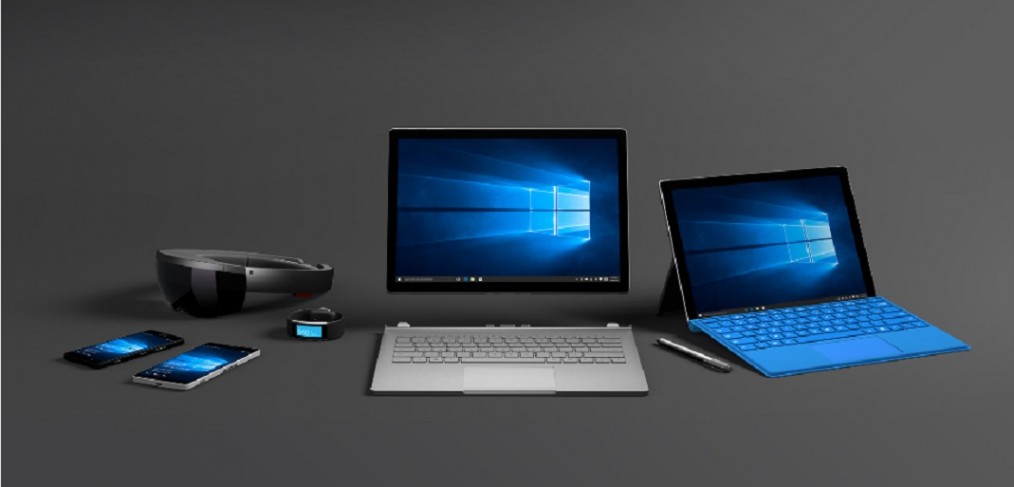 Microsoft's unleashes "cool" devices for Your Living Room, Classroom, Workplace and Pockets
A number of Windows 10 devices were introduced by Microsoft yesterday, some were seen, some were expected and some surprised me.
Terry Myerson, started with good news, the numbers that all Microsoft users, developers and critics would love to hear.
Windows 10 has been deployed on to 110m devices.
700K apps in Windows Store.
More than 1.2b people use Office.
Office was downloaded more than 150m times on iOS and Android devices.
Outlook.com now has more than 400m active users.
Skype users make more than 3b minutes of calls each day.
More than 80% of Fortune 500 companies use its Cloud Service.
Check out Microsoft By Numbers site for more such cool information.
The focus of the event was on new devices to empower One Windows dream across devices.
The journey of personal computing has taught us this simple lesson: no single device will be the hub of activity forever. The hub is you.
– Microsoft CEO, Satya Nadella.
Hololens:
Microsoft demonstrated mix-reality game Project XRAY with Hololens. Which looked cool, although I am sure a lot of work is required to bring it to production. Terry Myerson also announced Hololens Developer Edition will be available in 2016 at $3000 price tag.
Microsoft Band 2:
Band 2 offers a bit more flexible fitness devices, looked comfortable to wear with curved gorilla glass 4. Reviewers mentioned it to be a lot more ergonomic than the previous model. I would surely like to have my hands on the device as an when possible. Most importantly it works with all major Mobile operating system including iOS, Android and Windows.
Price and Availability
It will be sold at slightly higher price than its predecessor at US$249, available for pre-order now.
Lumia Phones:
Microsoft announced 3 variants of its Lumia line in yesterday's events, Lumia 950, 950 XL and 550.
Although Windows Phones lag far behind its competition, I always believed its superior to rest in terms of Operating System and security. What it lacked was a flagship device. Lumia 950 and 950 XL hope to fill that gap. Specs were impressive, but design left me wanting for more.
Hexacore and Octacore processors for 950 and 950 XL respectively,
3GB RAM,
32GB built-in storage + Extendable storage up to 3TB (3000 GB),
20 Megapixel Pure-view main camera and
5 Megapixel front facing camera provide plenty of oomph for the devices.
However, the differentiator should be Replaceable batteries with around 19 hour talk-time, replaceable back-cover, Bio-metric login (Windows Hello) and most importantly Continuum. Continuum allows Phones to be connected to screen and keyboard/mouse for a full PC experience. Microsoft announced an accessory to easily connect its phones to screen/keyboard/mouse.
Price and Availability:
Lumia 950 XL will be priced at US$ 649 (S$ 925 / Rs. 43,000),
950 at US$ 549 (S$ 820 / Rs. 36,500) and
Affordable 550 at US$139 (S$ 200 / Rs. 9,000).
950 XL and 950 will be available starting Nov, 2015 and 550 in Dec, 2015.
No news on operator availability at the time of this blog.
Surface Pro 4:
Another anticipated entry was from Surface Pro line. Again the specs were impressive, its lighter, thinner and has bigger screen than Surface Pro 3, however, maintains the same form factory and 3:2 ratio. Microsoft Devices chief, Panos Panoy, compared the Surface Pro 3 with MacBook Air and claimed that Surface Pro 4 is 30% faster.
He also announced new more responsive Type Cover with larger trackpad and more spaced out keys. A pen with changeable tip and an eraser. Surface Pro 4 looked almost identical, which itself is a great device, I have been using one for over a year now.
Price and Availability:
It will be available for pre-order today will ship by 26th Oct.
Price starting at US$899.
Surface Pro Book:
Most exciting announcement by far was the introduction of Surface Pro Book. With a convertible laptop, Microsoft is targeting users that need real keypad experience, a faster GPU and as Panos says, better lapability. Users such as Designers, Architects and Gamers should appreciate the this new device.
Price and Availability
Available for pre-order now, ships Oct 26th.
Price starting from US$ 1499.